Heavy earthquake in Haiti
On 12 January 2010, Haiti was haunted by a major earthquake. From one second to the next, one of the poorest countries in the western hemisphere has been thrown into chaos. More than 100,000 dead and thousands of injured were to be lamented.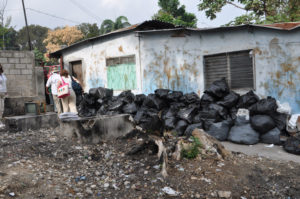 More than one million people lost their homes at this time. Just a few hours after the disaster, the MHW began sending a 22-person USAR (Urban Search And Rescue) team to search for and rescue victims of technical equipment and medical equipment. In cooperation with international teams, the MHW team participated in the search for buried victims in the capital, Port-au-Prince, as well as in the medical care of injured in the border town of Jimani (Dominican Republic) and in the hospital Milot. For sustainable disaster relief, the MHW has been providing on-the-spot emergency rescue vehicles to emergency incarceration vehicles established in March 2010 in order to support the emergency medical structures in the country, and promotes drinking water production, which is of paramount importance due to the outbreak of cholera drinking water treatment plants.
Cyclone Nargis rages in Myanmar / Burma
According to the Cyclone "Nargis" in 2008, the destruction in Myanmar (formerly called Burma or Burma) was great. Thousands of people were killed, and especially in the Irrawaddy Delta hundreds of thousands lost their belongings.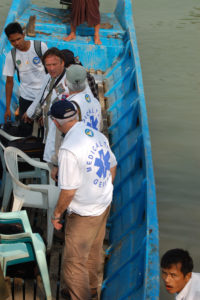 The MHW is involved in a sustainable project by providing boats and fishing nets to the affected families as an aid to self-help in the Delta. Thus, their livelihood, the fishing, can secure themselves. Each boat is designed to accommodate up to six families. The construction of the boats is carried out by local craftsmen, thus ensuring the sustainability of the project. On October 22, 2010, a further devastating cyclone "Giri" came into Myanmar, which once again caused enormous damage in Myanmar and thus underlined the importance of further aid from the MHW in the country.
The MHW is a non-profit organization of nationwide leading private rescue companies from the field of emergency rescue as well as cross-industry cooperation partners from all over Europe who have set themselves the goal of providing rapid and unbureaucratic help in the event of a catastrophe. MHW is currently internationally involved in disaster relief projects in Burma and Haiti.