Help Children Foundation supports work of MHW
Millions of people are suffering from the Horn of Africa under the extreme drought. The result is a dramatic famine, which is particularly true of Somalia.

The MHW Germany is working together with SOS Childrenvillages, as well as supplies for the clinics in Mogadishu, Afgoye, Baidoa and the Feldklinik in the refugee camp Badbado.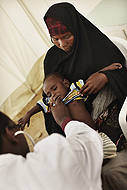 In the clinics more than 170,000 pregnant women, mothers and children are taken and treated every year.
In the current famine they now have a particularly important function, since from now on the distribution of food and different medicines can be organized and ensured.
A mobile medical team commutes between the clinics to provide care in Mogadishu and the underserved areas. The three clinics
gynecological examinations, post-natal care, surgical procedures and general medical care.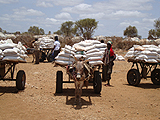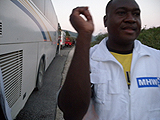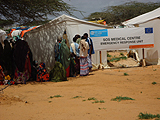 Like before, a quarter of the population of Somalia is fleeing from hunger and thirst and a real improvement in the situation is not yet foreseen. In the field-hospital in Badbado, 250 patients are treated every day, most of them being infants and pregnant women.
The therapeutic nutrition center now has sixty beds to treat the most severe cases of malnutrition with special food.