A children's day-care center for Syrian refugee children in Turkey
The Help Children Foundation, together with the Anton Schrobenhauser Foundation kids to life, is planning a children's day-care center for Syrian refugee children on the Turkish / Syrian border in Kilis.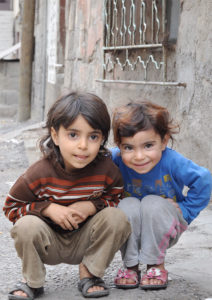 Already the fifth year the children suffer from violence and the disintegration of social and state structures. Millions of families with children are on the run and seek desperate shelter. According to Unicef, an estimated 3 million Syrian children had to stop their schooling since 2011. In the 2013/2014 school year, 70 per cent of the Syrian children living outside Camps did not attend school in the refugee country of Turkey. Many girls and boys are traumatized. In refugee camps and outside, they usually have no meaningful occupation.
In the worst case, millions of disillusioned children are growing, for whom hatred and violence are normality. The world community therefore warns that a "lost generation" will grow, which could contribute to the further division of Syrian society and the destabilization of the entire region.
There must be an urgent need to invest much more in education and help for self-help – and thus into the future of children and the entire region.
For this reason, we are investing together with kids to life in the future of Syrian children.
The earlier it is started to look after a traumatized child, the greater the chances of rehabilitation. Our concept envisages that the neglected children are already being educated in a toddler age.
In addition to the education and the playful learning, Help Children Foundation is very important to the daily hot meal, since these are mostly under-worked or malnourished.
We promote this project as sustainability is the first priority. With this help, these children get a real opportunity for their future.